DriverAssistant Overview
Click here to be taken to the Apple App Store
Click here to be taken to the Google Play Store
Ardmore Power Logistics DriverAssistant allows realtime shipment management and tracking for Ardmore's client shipments. DriverAssistant streamlines the Dispatch, Pickup and Delivery reporting process by communicating in realtime with Ardmore Logistics data systems. Carrier companies using DriverAssistant do not require complicated MWS410 delivery reports or onboard tracking equipment and systems. Carrier drivers using DriverAssistant report location and Milestone status updates (including delivery) directly through the App.
Privacy Is Paramount
A shipments location tracking data is only associated with a Carrier company and load tender(shipment) and NOT the Carrier driver. A drivers personal information is NOT stored on Ardmore Power Logistics data systems.
DriverAssistant Information
Seller
Ardmore Power Logistics LLC
24610 Detroit Road, Suite 1200
Westlake, Ohio 44145
1-877-ARDMORE (273-6673)
Size
20 MB
Category
Productivity, Utilities
Compatibility
Requires iOS 8.0 or newer
Compatible with iPhone and iPad
Language
English
Age Rating
4+
Copyright
2019 Ardmore Power Logistics LLC
Privacy Policy
Privacy Policy
License Agreement
License Agreement
Installation Instructions
Click Here For PDF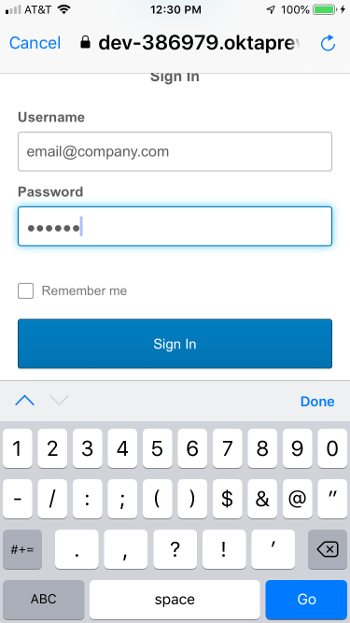 Okta Identity Provider Feature
DriverAssistant uses a third party identity provider (Okta) to authenticate each driver. Okta provides an authentication confirmation to DriverAssistant once the driver has successfully logged in.
Carrier drivers activate a (free) personal profile through the Okta Identity Provider service and authenticate through the DriverAssistant App.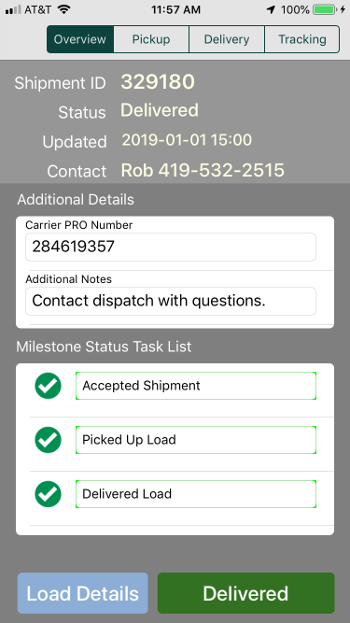 Dispatch Details Overview and Load Details Feature
DriverAssistant manages the same information as the shipments Bill Of Lading (BOL). The Overview and Load Details screens approximate to a shipment's identification and load quantity, weight, dimensions and other important physical details about the load.
In addition to load details, Overview provides a Milestone Status Checklist for quickly referencing the progress of the pickup and delivery process. When a Milestone task is complete, the checklist will add a mark next to the completed task. Once all tasks are complete, the load is delivered and payable.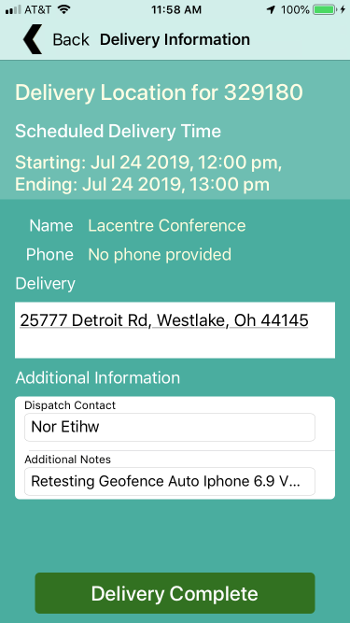 Waypoint (Pickup, Delivery) Feature
DriverAssistant provides both Pickup and Delivery location information for each Waypoint. Waypoint information displays the expected arrival time start and ending window, location address (in a selectable field that displays in iOS Maps) and location contact information*.
Pickup and Delivery Waypoints are critical to reporting on a shipment's status. Drivers simply tap the status button to indicate when a shipment has been loaded (Picked Up) and once again when the shipment has been unloaded (Delivered).
That's all there is to it. The load is complete and payable.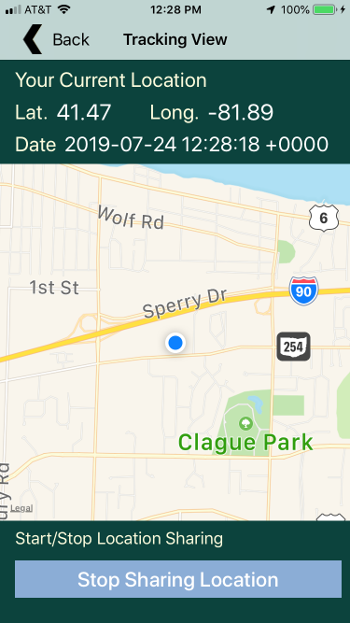 Tracking Management Feature
DriverAssistant reports the realtime location of a driver shipment once the driver has tapped Accept Shipment from the Details Overview screen and until the shipment is delivered.
Drivers can also disable location tracking through the DriverAssistant by tapping Tracking in the navigation bar and then Stop Sharing Location button in the Tracking View screen.
Location tracking can also be enabled or disabled through iOS Settings > Privacy > Location Services > DriverAssistant
IOS Instructions
Android Instructions